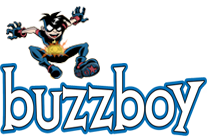 Comic Updates Every Monday, Wednesday and Friday!
Created & Written by
John Gallagher
Illustrated by John Gallagher
& Rich Faber
Lettered & Colored by
Thom Zahler

We always look forward to hearing from you, so don't hesitate to post in our blog or contact us in any of the following ways:

Address:


John Gallagher
c/o Sky-Dog Comics
7948 Freehollow Drive
Falls Church, VA 22042


Phone:


703.989.3068


Email: john@sky-dog.com


Or use the following form:



To reach the fine people at Keenspot about any other issues, including licensing Buzzboy properties, they can be reached at:

Address:


Buzzboy
c/o Keenspot Entertainment
PO Box 110
Cresbard, SD 57435


Phone:


1-888-KEENSPOT


E-Mail:
Buzzboy © and ™2011 John Gallagher. Roboy Red © and ™2011 Rich Faber and John Gallagher All Rights Reserved.